Broadband Communities Magazine Recognizes Service Provider's Fiber to the Home Network Build for SRPMIC
SCOTTSDALE, ARIZ. – October 28, 2021 – Saddleback Communications, a provider of world-class, fiber-based voice and data communications to business and residential customers in the Salt River Pima-Maricopa Indian Community (SRPMIC), announced today that it received the Broadband Communities (BBC) 2021 Cornerstone Award for its fiber-to-the-home (FTTH) deployment, which brought high-speed internet access up to 500Mbps to all SRPMIC member homes.
The award was presented to Saddleback President Bill Bryant at the Broadband Communities Summit, held in September at 27-30 at the Marriot Marquis in Houston.
"We're honored to receive the Cornerstone Award from Broadband Communities," said Bryant. "After a decade of development, Saddleback's FTTH network was completed just as the demand for reliable home internet connections skyrocketed during the pandemic. The investment has been a lifeline to our customers and is key to keeping them connected to what matters most."
BBC's Cornerstone Award is given to communities, companies, private developments, municipalities and individuals with outstanding accomplishments in delivering telecommunications for the benefit of end-users. The award is reserved for recognition of the most notable deployments of FTTH in the U.S. and abroad.
"When it came time to replace its fragile copper network, Saddleback recognized the importance of world-class infrastructure, leapfrogging over any interim hybrid solutions and upgrading to fiber," said the BBC Cornerstone Award Judging Committee. "The Phoenix area provider now has speeds of up to 500Mbps available to every home in the Salt River Pima-Maricopa Indian Community. The exceptionally reliable, secure and innovative services now being offered to residents, students and businesses are helping to drive economic development and create new opportunities."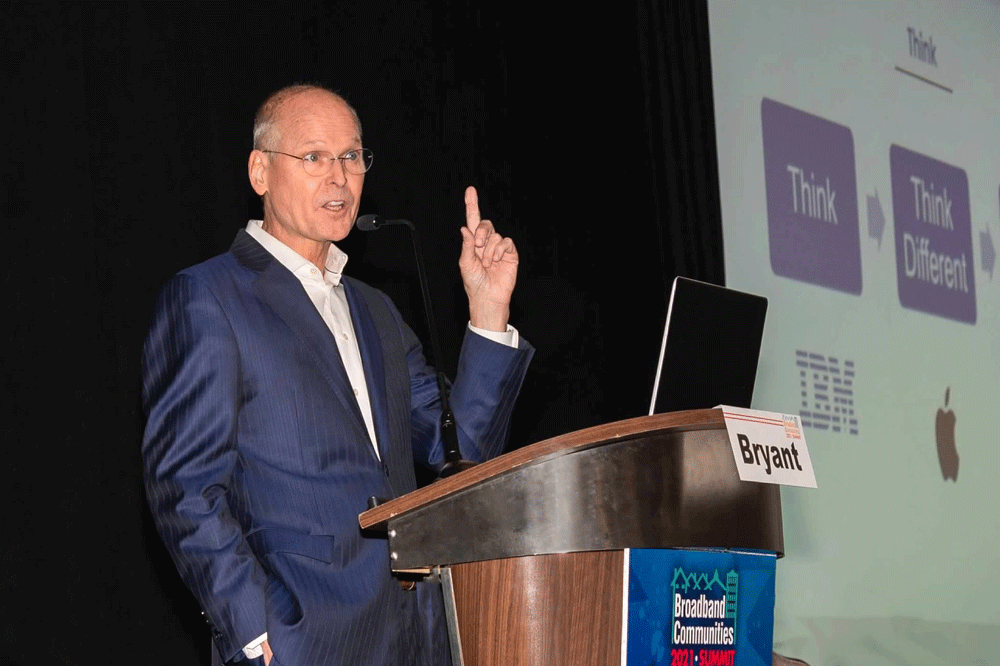 Saddleback's success also provides a blueprint for tribal broadband, which Bryant shared in his BBC Summit address, "Ensuring No Community Is Left Behind: A Blueprint for Advancing Tribal Broadband." Bryant made a passionate appeal to the hundreds of providers in attendance to work with the 500+ Native American Tribes in the U.S. to "unlock the wisdom, creativity and economic opportunity in Tribal America." He urged attendees to work with the Tribal entities in their service areas to improve broadband connectivity to boost economic development in their communities.
The message supports efforts to advance Tribal broadband by the National Tribal Telecommunications Association (NTTA), where Bryant serves as Vice President.
About Broadband Communities Summit
Broadband Communities Summit is an annual event for community leaders, multifamily property owners, and network builders and deployers interested in building, managing, marketing and monetizing high-speed broadband technologies and services. Its focus is on successful strategies for broadband providers to deliver high-speed broadband networks to communities.
About Broadband Communities
Broadband Communities (BBC) is the leading source of information on digital and broadband technologies for buildings and communities. Our editorial aims to accelerate the deployment of Fiber-To-The-Home (FTTH) and Fiber-To-The-Premises (FTTP) while keeping readers up to date on the available solutions capable of serving their practical needs.
BBC offers in-depth news, expert insights, and practical know-how on the technical, business, financial, and legal aspects of outfitting properties and communities with broadband solutions. Focusing on residential buildings, developments and municipalities, BBC helps the large-scale and wholesale buyers and users of broadband technologies, equipment, and services competitively distinguish their properties and communities in a rapidly-changing marketplace.
About Saddleback Communications
Saddleback Communications delivers advanced voice and data communications services over a carrier-class, redundant network to business and residential customers on the Salt River Pima-Maricopa Indian Community (SRPMIC). Saddleback Communications provides custom business communications solutions, including Unified Communications as a Service, Contact Center as a Service, Collaboration, SIP Trunking, point-to-point Ethernet and dedicated Internet Access. The company also leverages its state-of-the-art Fiber-to-the-Home (FTTH) network to deliver high-quality voice and high-speed Internet to residential customers. Learn more at www.saddlebackcomm.com.
Media Contacts:
Phenecia Padilla
Marketing Assistant
Saddleback Communications
480.362.7090
ppadilla@saddlebackcomm.com